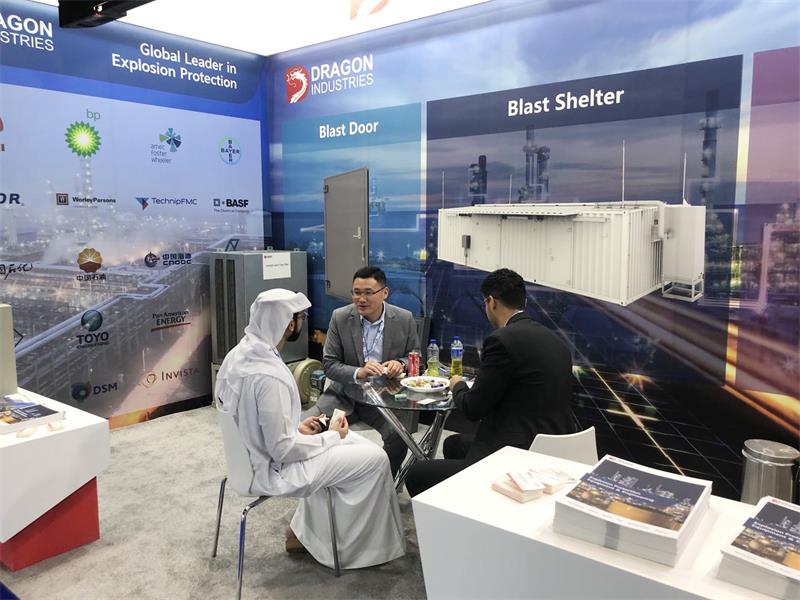 From November 11 to 14, Dragon Industries participated in APIPEC, the largest and most influential exhibition in the Middle East which attracted more than 2,200 companies from more than 120 countries. Dragon Industries demonstrated the world's leading explosion safety equipment and engineering solutions, including: Blast shelter, Blast valve, Blast door, Blast window, Explosion venting door, Explosion venting window, Explosion venting wall, sand trap louver, building upgrade to blast building, etc.
All products exhibited by Dragon Industries have been certified by internationally renowned third-party agencies, including BakerRisk, VTT, Eurofins, TUV and FM Global. The blast shelter was designed according to American ASCE standards, and a number of professional audiences expressed their intention to cooperate in developing the Middle East market. Dragon Industries has provided dozens of blast shelters for domestic and foreign projects such as Pan American Energy and YAMAL LNG, and received orders for blast protection equipment from ADNOC Abu Dhabi National Oil Company before the exhibition.
Over the past 16 years since its establishment, Dragon Industries has provided over 1000 Chinese and foreign enterprises with the total solution of explosion protection, including Sinopec, CNPC, CNOOC, Shell, BP, BASF, BAYER, ADNOC, Petronas, UL, INVISTA and JTC.
In the future, Dragon Industries will base on the Chinese market, expand the global high-level market, and provide customers with the world's leading explosion safety equipment and engineering services